| | |
| --- | --- |
| Date of Birth: | August 30, 1899 |
| Died: | 7 March 1994 (aged 94) |
| Place of Birth: | Terre Haute, Indiana |
| Gym: | Stillman's Gym |
| Location: | Manhattan, New York City |
| Boxing Background: | Ray Arcel began training fighters at Grupp's Gym during the 1920s  |
| Notable Fighters: | Benny Leonard, Ezzard Charles, Barney Ross, Roberto Duran, Larry Holmes |
Ray Arcel's Boxing Background
One would be hard-pressed to find a trainer with a resume that comes close to that of Ray Arcel, who trained a record 22 world champions during a career which stretched from the 1920s to the 1980s, and included stints in charge of such all-time greats as Benny Leonard, Ezzard Charles, Roberto Duran and Larry Holmes.
One of two children of David and Rose Arcel, Ray Arcel was born in 1899 in Terre Haute, a small, peaceful city located in Indiana. However as his were the only Jewish family in the neighborhood, they suffered prejudice on a daily basis. The Arcel family moved to the Jewish quarter of Harlem, New York when Ray was a small child. Arcel graduated from the academically elite Stuyvesant High School in Manhattan in 1917, the same year he discovered the sport that would dominate his life.
In 1917 Arcel began training in a boxing gym – Grupp's Gym on 116th Street and Eighth Avenue, New York – with dreams of becoming a fighter himself. At Grupp's he was taught to box by Welshman Dai Dollings – a former bare-knuckle fighter – and Frank 'Doc' Bagley. The duo had trained and managed such ring greats as the much avoided black heavyweight Harry Wills, world champions Jack Britton and Johnny Dundee and English welterweight Ted Kid Lewis.
It was Dollings and Bagley who would train Gene Tunney for his title winning effort against Jack Dempsey in 1926. The young Arcel was training alongside some of the best fighters in the world back then. However, after a handful of professional fights he realized that he didn't have what it took to become a world champion.
Ray Arcel Becomes a Trainer
The lessons the young Ray Arcel would learn under the stewardship of Dai Dollings and Frank 'Doc' Bagley might not have set him on the road to fistic glory, but they laid the foundations for him becoming one of New York's most in demand young trainers. In fact, Arcel proved to be such a precociously talented boxing coach that while still in his early 20s he trained flyweight Frankie Genaro to defeat the legendary Pancho Villa in March 1923 for the American flyweight title.
Villa was very much the Manny Pacquiao of that era, and three months later he would become the first Filipino to win a world title when he KO'd another legend in Jimmy Wilde in seven rounds to capture the world flyweight crown. Genaro was no slouch himself, and had won a boxing gold medal at the 1920 Antwerp Olympics, and would go on to win a version of the world flyweight title. During the 1920s Arcel would train a host of great world champions including Abe Goldstein, Henry Armstrong, Jack "Kid" Berg and Barney Ross.
Despite his youth, Arcel had a severe and decisive manner and was a strict disciplinarian. For example, in 1925 one of Arcel's fighters – Charley Phil Rosenberg – challenged Eddie "Cannonball" Martin for the world bantamweight crown. 12 weeks away from the fight Rosenberg was 40 lbs above the 118-pound bantamweight limit.
Arcel became Rosenberg's shadow, ensuring he stayed on his diet, trained intensely, and had no opportunity to jump camp. Arcel cooked his meals, slept next to him in an adjoining bed, even went to the bathroom with him. A high school cross country champion, Arcel would do roadwork with Rosenberg, pushing him all the way. Not only did Rosenberg lose the 40 lbs and make the bantamweight limit, he outpointed Martin over 15 rounds to win the world title.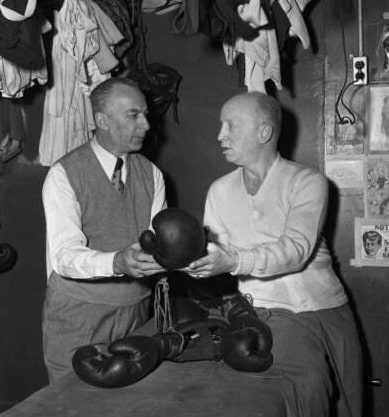 Benny Leonard
Before the advent of Roberto Duran, Benny Leonard was almost universally recognized as the greatest lightweight of all time. Leonard was one of the first "boxer-punchers", possessing superb skill, speed and footwork, but also blessed with KO power. Leonard KO'd Freddie Welsh to win the world lightweight title aged just 21 in 1917, and was virtually untouchable for the next seven years before his somewhat premature retirement in 1925, aged just 29.
Leonard was only three years older than Arcel, and the two became great friends. Arcel was a big fan of smart boxers, and he rated Leonard as the perfect fighting machine. While Leonard had retired a wealthy man in 1925, the stock market crash of 1929 saw his fortune largely wiped away. In 1931, after seven years out of the ring and aged 35, Leonard was forced to make a comeback. It was at that point Leonard asked Arcel to train him for his ring return.
Arcel was in Leonard's corner for the 20 bouts he fought against second rate opposition between October 1931, and October 1932. With a title fight looming, Leonard took on top contender and welterweight champion Jimmy McLarnin. While Arcel had done a masterful job in protecting his old friend throughout his comeback, there was no saving him against McLarnin, who was both a great boxer and a devastating puncher. Leonard was battered to defeat in six one-sided rounds.
The Meat Wagon
If most boxing experts believe that Muhammad Ali was the greatest heavyweight champion of all time, the man usually coming in second is Joe Louis. Louis reigned as world heavyweight champion for 11 years from 1937 to 1948 and made a record 25 title defenses. Ray Arcel trained 13 fighters who faced Louis 14 times, before he became champion, in title bouts (including Jimmy Braddock, the man Joe defeated to win his world title) and during his unfortunate comeback.
On his way to a title shot, Louis defeated Charley Massera, Paulino Uzcudun, Jack Sharkey and Jorge Brescia. After beating Jim Braddock for the title, Louis defeated Nathan Mann, John Henry Lewis, Johnny Paycheck, Al McCoy, Buddy Baer (twice) and Lou Nova in title defenses. Louis was beaten by Ezzard Charles in his 1950 attempt to regain the title. Finally, in 1951 he defeated Cesar Brion during a run of eight straight victories that led to Louis's final fight with Rocky Marciano.
Many of the fighters who challenged Louis were highly ranked contenders, but Joe was as dominant in his era as Ali and Tyson were in theirs. Because Arcel and his fighters so often featured in the opposing corner of Louis, the later stretched out on the canvas, he earned the unfortunate nickname "The Meat Wagon."
Arcel's only win over Louis was a bittersweet victory. Louis had retired as heavyweight champion in 1948, but he was broke and owed the tax man millions. Meanwhile Ray Arcel's fighter Ezzard Charles had moved up from light heavyweight and outpointed Jersey Joe Walcott to win the vacant heavyweight title. In 1950, after two years of retirement, a 36-year old Louis challenged Charles, but the great man was just a shadow of himself, and he was well beaten.
Ray Arcel vs The Mob
At the start of the 1950's Arcel was keen to move into the more lucrative promotional end of boxing. Arcel along with two of his colleagues came up with the idea for a regular Saturday night boxing slot on TV, then pitched it to the ABC network, who loved the idea. "The Saturday Night Fights" was first broadcast in January 1953, and proved an instant hit. However, Arcel and his friends had a big problem: At that time the International Boxing Club (IBC) dominated boxing in America. It was controlled by Jim Norris, the manager of Madison Square Garden, who was reputedly tight with organized crime.
The IBC was already showing fights on rival US TV networks, and weren't happy with Arcel and his high profile weekly show. One night after leaving a Boston synagogue, Arcel was viciously attacked by an unseen assailant who struck him repeatedly about the head with a lead pipe. Arcel was lucky to survive the assault, and spent 19 days in hospital, with round-the-clock police protection.
The incident soured Arcel's relationship with boxing, and he turned his back on the sport. In 1955 he accepted a job offer from a friend in the steel industry to work as a purchaser. It would be 17 years before Arcel would return to boxing.
Roberto Duran
In 1971, Ray Arcel had been outside of the boxing game for 16 years. He had been fully focused on the steel industry, and had done very well for himself financially – earning far more than he had as a boxing trainer. However that September he got a call from an old friend of his named Carlos Eleta. Eleta was a Panamanian who managed Latin fighters, and he asked Arcel to come to Madison Square Garden that weekend to see the US debut of a 20-year old unbeaten lightweight named Roberto Duran.
In the chief support to Ken Buchanan's WBA lightweight title victory over Ismael Laguna, Duran knocked out Puerto Rican journeyman Benny Huertas in 66 seconds. Those in attendance – Arcel included – had never seen a fighter as ferocious and primal as Duran. His face was gaunt, his eyes black, he looked like a cross between a street urchin and Charles Manson, yet he fought with controlled aggression. He looked big and powerful for a lightweight, and he knocked out Huertas with one vicious right hand.
In early 1972 Eleta asked Arcel if he would be interested in travelling to Panama to train a fighter of his named Alfonso "Peppermint" Frazer to challenge the peerless Argentinean Nicolino Locche for the WBA super lightweight title. Arcel agreed, as a favor to Eleta, but also because he knew he'd get a chance to see more of Duran. Arcel did his homework on Locche, arguably the greatest defensive fighter of all time, who had a record of 106-2 going into the Frazer fight and was unbeaten in eight years. With Arcel in his corner "Peppermint" won a unanimous decision.
Eleta then asked Arcel if he would be interested in training Duran. Eleta said that Duran had no respect for his Panamanian cornermen, and he needed a top trainer to prepare the youngster for his upcoming world title shot against Buchanan. Arcel couldn't resist the opportunity, and at 73, he contacted his longtime chief second 65-year old Freddy Brown, and the two went to work on molding Duran into the perfect fighting machine.
Under the tutelage of Arcel and Brown, Duran KO'd Buchanan in 13 rounds, then went on to unify the lightweight title while defending it ten times between 1973 and 1978. Duran stepped up to welterweight, and in June 1980 he defeated Sugar Ray Leonard to win the WBC welterweight title, a victory comparable in drama and impact with Joe Frazier's win over Muhammad Ali in 1971.
The rematch that November was the infamous "No Mas" fight in which Duran quit in the eighth round, turning his back on Leonard and saying "No mas, no more box" to the referee. The reason why remains a mystery – Duran claims he was suffering from stomach cramps, although the general consensus was that Leonard had embarrassed and humiliated him in the seventh round with his wide range of tricks, and Duran decided he would rather quit than face more of the same.
Arcel and Duran severed ties following that fight, but reunited one last time when Duran unsuccessfully challenged Wilfred Benitez for his WBC light middleweight title in 1982.
It might have been a sad footnote to go out on for one of boxing's greatest ever trainers, but the old maestro wasn't done yet. Later that year, at the age of 82, Arcel trained Larry Holmes for his WBC heavyweight title defense against Gerry Cooney – at that time the richest bout in history, with both fighters picking up $10 million. For this fight Arcel worked alongside 71-year-old Eddie Futch, his friend of 40 years. Holmes stopped Cooney in 13 rounds.
Fighters Trained By Ray Arcel
Ray Arcel trained literally dozens of fighters, at least 20 of them world champions. In no particular order they were:
Ezzard Charles, Jim Braddock, Bob Olin, Tony Zale, Barney Ross, Billy Soose, Ceferino Garcia, Lou Brouillard, Teddy Yarosz, Freddie Steele, Jackie (Kid) Berg, Kid Gavilan, Alfonso (Peppermint) Frazer, Abe Goldstein, Frankie Genaro, Sixto Escobar, Charley Phil Rosenberg, Roberto Duran, Larry Holmes and Benny Leonard.