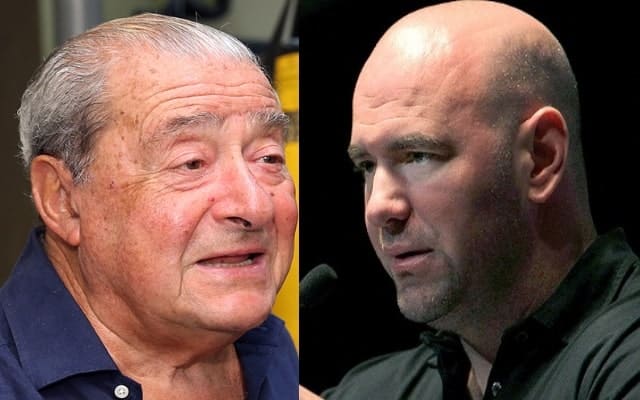 UFC President Dana White has had a rivalry with Top Rank CEO and founder Bob Arum for several years.
White, who has a background in boxing as he made his start as a boxing manager, also has a love-hate relationship with the sport. In recent years, he has voiced his opinions about boxing and some of the major players in it.
In a recent interview with The Wall Street Journal, he stated that boxing is killing itself by not caring about the future and "trying to get every dime they can out of you" at every show.
These comments were something that Arum did not like. Thus, he responded to the UFC President when he recently spoke with NYFights.
The longtime boxing promoter claims that White and the UFC don't actually invest in their sport due to the fact that they are lining their own pockets and not paying fighters fairly.
"You have to understand, UFC is a monopoly. The money they earn on a fight because they pay their athletes 20 percent of the gross, we pay around 80 percent, what they say they're investing back in the business, they're investing in themselves.

They put money in their pockets! That's not investing in anything. In boxing, there are a large number of promoters, and when a promoter has a successful event and there's a profit he earns, he puts it back in the company. What the f**k is White talking about? White is speaking from desperation now, he's the spokesperson for what could be a failing business!"
Ironically, some of White's criticisms of boxing are odd because the UFC currently finds themselves in a state of flux where "money fights" are being prioritized over logical booking.
The last two pay-per-view events for the UFC barely drew over 100,000 buys. Their biggest star UFC lightweight champion Conor McGregor has not fought since last November at UFC 205.
Now, to end off the year in a big way, they are bringing back former UFC welterweight champion Georges St-Pierre in the hopes that his star power still remains. Arum thinks White and the UFC are starting to get desperate for revenue sources.
"My thoughts are that UFC is desperate. Their numbers are way off, they have no marquee star. Look at their PPV numbers. They barely break 100,000 homes on their shows. They're having trouble getting renewal on their contract with FOX. They have to do something. One of things they may try and fall back on and try and acquire a boxing presence. About a year ago, I was approached by someone repping UFC, they wanted to buy Top Rank."