Floyd Mayweather refused to take a selfie with a boy because he was wearing nail polish.
The 18-year-old was wearing black nail polish and when he asked Mayweather for a picture, the undefeated boxer said no. The teen then shared a photo with TMZ Sports of the nail polish he was wearing.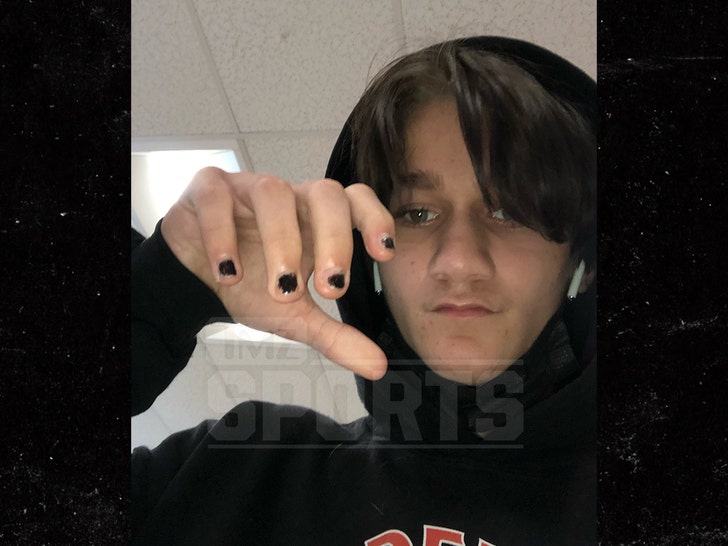 Guys wearing nail polish is much more common as even famous singers and actors wear it. With that, it was a surprise that Mayweather said no and he was heard saying no the fan in a video.
"You got painted nails, I don't take pictures with guys with no painted nails," Mayweather is heard saying in a video of his encounter with the fan (Yahoo Sports).
"Floyd doesn't want to take a picture with me because my nails are painted. Bruh, really?!" the unnamed fan said.
Once the story became public, Mayweather was slammed by many people for not taking a photo with the teenager because he was wearing nail polish. However, the undefeated boxer made it clear if a guy is wearing nail polish he won't take a photo or sign anything for them.
Floyd Mayweather last fought back in June in an exhibition bout against Logan Paul. The fight went all eight rounds and after the fight, "Money" said he was probably done boxing for good. With that, Paul trolled Mayweather saying he retired him.
"Come on, baby, baby," Paul said when asked if he would appear in a professional fight. "Come on. Yeah, of course, I have to. This is the coolest thing on the planet. You think about the Roman Colosseum, when you watch the gladiators fight to the death. Look around. My brother filled this arena up in Cleveland, Ohio, his home city. It's the coolest thing anyone could ever ask for.
"I've said it before, I'll say it again: Fighters, bro, modern day gladiators. There is no more dangerous athlete. When the fighter walks in the room, everyone feels it. He's got a presence. And it's cool, I love it. I love the sport, I love entertaining. And honestly, I'm f—ing good, bro." 
What do you make of Floyd Mayweather refusing the photo?