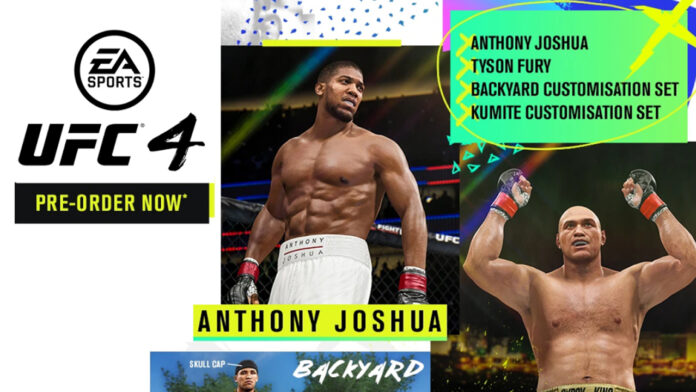 Heavyweight boxing champions Tyson Fury and Anthony Joshua have been announced as playable characters in EA games new UFC 4 title.
The news came at UFC 251 this past weekend where a trailer was shared for the game as well as an announcement that the two boxing champions would be available to players who pre ordered the game.
Prior to this announcement rumours were circulating of Fury's involvement in the game with Forbes reporting that he had come to an agreement with EA games to be included.
Following this report UFC Dana White responded speaking at the UFC on ESPN 11 press conference teasing that Fury may be involved.
"What? Where are you hearing this sh*t," White responded with a laugh at the UFC Vegas 3 post-fight press conference last night (via MMA Fighting). "Tyson Fury might be.
"Aren't we doing this in Abu Dhabi? Why are you asking me these questions now? Because I might tell you?"
Since then it has been Fury's involvement has been confirmed as well as Anthony Joshua's but rumours of Deontay Wilder being in the game seem to have been false.
The inclusion of these boxing elites in a UFC game may seem like a stretch however, for Fury joining the MMA world seems to be like something the fighter is genuinely interested in doing.
In 2019 the champion posted multiple videos training with UFC Middleweight contender Darren Till. As for joining the UFC, organization president Dana White doesn't seem convinced but would welcome him with open arms.
"Tyson Fury had a tough time in his last fight in a boxing match. Coming over to MMA is a whole 'nother story," White said. "… Listen, anything's possible. If Tyson Fury wants to fight in MMA, I've got a ton of guys that would love to fight him.
"I just don't know why. I can't wrap my head around why. …He's an incredible fighter. Promoted the right way, [he] could be a part of three or four of the biggest fights in heavyweight [boxing] history. Why come over here and get smashed when you could stay there? Tyson Fury, your time is now. You're the man in boxing. You're one of the top four guys in the world in boxing. Why even think of coming over here?"