There has been talk about 'Iron' Mike Tyson's comeback exhibition bout against Roy Jones Jr for some time now. We were supposed to see it in September, but Tyson's team believed if they waited a little longer, the fight would generate more revenue.
The talks and promotion of the bout went stagnate, it was in a bit of a weird place. We hadn't heard of it in weeks, many of us were wondering if it was still going to happen. According to TheSun, this fight will take place at the Dignity Health Sports Park in Carson, California, on November 28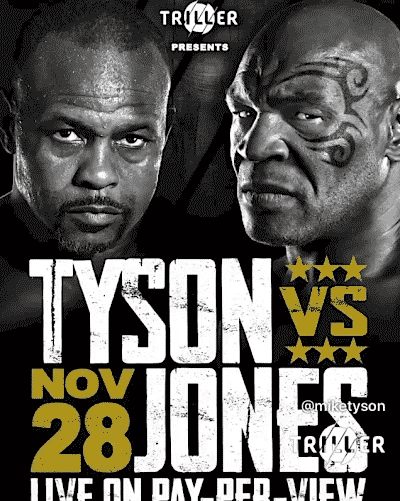 It's very exciting, and somewhat worrying that this fight is going through.
After we all heard of its rumors, we were thinking two men in their fifties shouldn't be fighting, but they're two of the best to ever do it, and it makes for a very entertaining fight.
Tyson is 54-years-old, and Jones is 51-years-old. As such, Tyson's professional career started four years earlier.
Tyson and Jones both had very successful amateur careers before turning professional.
Tyson went 48-6 as an amateur, winning the Junior Olympics twice, as well as becoming an eight-time National Golden Gloves Champion, amongst many other first places in tournaments he competed in.
Jones had an amateur record of 121-13, where he won the Junior Olympics two and three years after Tyson won his, as well as a two-time National Golden Gloves Champion, and an Olympic silver medal.
They each have more amateur credentials than that, but they're the biggest feats they accomplished before turning professional.
Once turning professional, Tyson quickly became the youngest heavyweight champion in boxing history, just 20-years-old, and didn't lose a single time until his thirty-eighth fight.
That's right, he went 37-0 in his initial start as a professional, that included 33 knockouts and a 10-0 run in title fights. Once losing to Buster Douglas, he won his next eight fights, six via knockout, capturing the WBC and WBA heavyweight titles.
This brought his record to 45-1, but this is when he ran into problems, when he fought Evander Holyfield in back-to-back outings, losing both fights.
The rest of his career would have mixed results, as he went 5-3 (2 NC) in his next ten, losing his last two fights before retiring.
Jones opened his career up with a 34-0 record, 29 coming via knockout, going 10-0 in title fights as well, before losing via DQ to Montell Griffin.
He won his next 16 bouts with ten knockouts, first avenging his loss to Griffin in an immediate rematch. This includes another undefeated title run, where he went 15-0, with only one of those fights being a non-title bout.
This brought Jones' record to 49-1, having avenged his only defeat, in a fight he didn't even really lose. He was disqualified.
This is around the time his prime left him, as he lost his next three straight, bringing his record to 49-4. This was also around the time Tyson retired. Jones went 5-4 in his next nine after the first losing streak of his career.
He then went 12-1 in his next 13 bouts, and that brings us to February of 2018, when he last fought.
Jones has gone 17-6 since Tyson last fought, which was in June of 2005. It's been a long time since Tyson competed, and though Jones wasn't fighting the best of the best in the last 15 years, he's still had 23 fights to Tyson's zero in that time.
One thing that's very interesting about this fight is that they're in completely different weight classes. Jones did his best work from 160 lbs to 175 lbs, but in his more recent years, he has fought in higher weight classes and done well.
Tyson's always been a heavyweight, and though he's not the biggest heavyweight, standing 5'10", he's as powerful as anyone we've ever seen in the weight class.
Jones is actually taller than Tyson at 5'11", and he has a three inch reach advantage at 74", while Tyson's is 71".
That being said, aside from their ages, this fight comes down to how they fight. They were both pretty revolutionary in the sport of boxing.
Tyson had this march forward, bob-and-weave-while-throwing-bombs type of style, and it worked out beautifully for him. He was more technical than many gave him credit for as well.
Jones on the other hand picked his opponents apart from the outside, but he wasn't the type of fighter that'd stay on his bike in order to pick apart his opponents, he had real power and secured knockout victories in most of them.
The way Jones could throw his lead left hook how most throw a jab was absolutely remarkable. He'd use it to gauge distance, and mostly, to finish his opponents.
When their careers were all said and done, Tyson finished off with a record of 50-6 (2 NC), and Jones finished his career off with a record of 66-9. Of course this is an exhibition fight and will not go on their records.
Just because it's exhibition does not mean it isn't a real fight however. Floyd Mayweather versus Tenshin Nasukawa was an exhibition, and that ended in a TKO.
If there are any MMA fans on here, if you watch The Ultimate Fighter, they're all exhibition fights, they don't go on the fighters record, but they're real fights. You get the same outcome in them.
We'll all surely be tuning into this pay-per-view event headlined between two absolute OG's.
Who do you see winning this epic battle of the legends?