| | |
| --- | --- |
| Date of Birth: | April 24, 1961 |
| Died: | March 17, 2020 |
| Place of Birth: | Grand Rapids, Michigan, U.S. |
| Nicknames: | Black Mamba, The Mexican Assassin |
| Gym: | Mayweather Boxing Club |
| Location: | Las Vegas |
| Boxing Background: | Professional Boxing Fighter, and Trainer |
| Notable Fighters:  | He only needed one! But that one – Floyd Mayweather Jr. became unbeatable |
Roger Mayweather: Early Life
Roger Mayweather was born in Grand Rapids, Michigan. The son of Theartha Mayweather Sr. and Bernice Mayweather. He was an integral part of what has become the 'Mayweather dynasty': his brothers – Floyd Mayweather Sr. and Jeff Mayweather, his nephew, the now legendary and undefeated Floyd Mayweather Jr.* Note Roger also had another brother Theartha Mayweather Jr. who died early in life as well as five sisters! There is little else known about Roger's early childhood other than he was introduced into boxing as a teenager by his older brother Floyd Mayweather Sr.
Roger Mayweather: Boxing Background
Roger Mayweather known as 'Black Mamba' was a successful American boxer who later became a revered trainer. As an amateur boxer, Roger Mayweather held a record of 64 wins and 4 losses. At the age of twenty, Roger moved to Las Vegas where he turned professional, winning his debut match the very same year. At the age of twenty-two, Roger had improved his record to 14 wins and 0 losses which earned him the right to title shot for the World Boxing Association (WBA) World Super Featherweight Championship against 'lineal' Champion, Samuel Serrano. On the 19th January 1983, Roger beat Serrano by TKO in round eight – effectively ending Serrano's career. This put Roger 'on the map' for it was no small feat: Serrano held a record of 49–3-1 and had only lost once since winning the title seven years prior in 1976.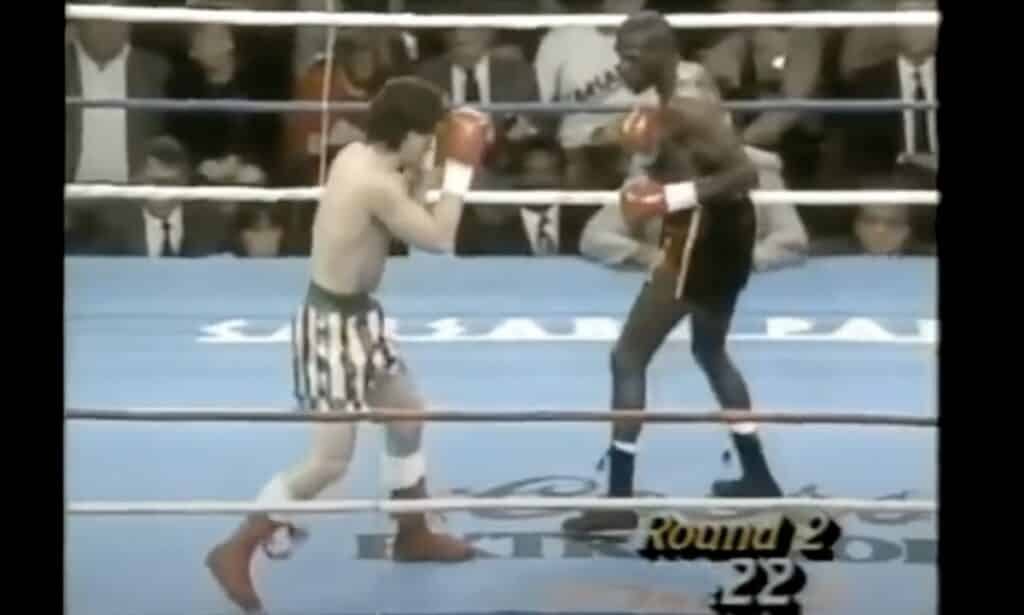 Roger Mayweather: Boxing Career (Main Stats)
During a long career which spanned from 1981 to 1999, Roger fought 72 times, winning 59 bouts and losing 13. A World champion in two different weight classes Roger held the WBA 'lineal' Super Featherweight titles in 1983 and 1984, along with the WBC Light Welterweight title in 1987, 1988 and 1989. Roger also went on to hold the IBO Light Welterweight title in 1994 and the IBO Welterweight title in 1994 and 1995.
Roger Mayweather: Notable Fights Against Notable Fighters
Junior Lightweight & Lightweight:
It was not until the 22nd February 1984 that Roger would experience his first loss when he was knocked out in the first round by Rocky Lockridge. Up until then, he had won 17 consecutive fights and defended his title twice against Jorge Alvarado and Benedicto Villablanca respectively.
On the 12th May 1985, Roger Mayweather beat Kenny Baysmoreto to win the USBA Super Featherweight title. A win which qualified him to fight against WBC Junior Lightweight champion (and future legend), Julio César Chávez on the 7th July 1985, a bout he lost by TKO.
On the 28th November 1986, Roger beat Sammy Fuentes for the Lightweight World Boxing Council Continental Americas title. He however failed to win the NABF Lightweight title on the 28th March 1987 losing by unanimous decision to another future hall of famer Pernell 'Sweat Pea' Whitaker.
In 1987 Roger moved to Junior Welterweight, notable fights he engaged in here:
At the 140lb weight facing Rene Arredondo, the WBC Junior Welterweight champion on the 12th November 1987, Roger led on all 3 judges' scorecards before knocking down Arredondo three times in round 6 and winning the bout by TKO.
Through 1988, Roger continued to win, defending his title four times; firstly, against Mauricio Aceves (March 24); secondly, with Harold Brazier (June 6); thirdly, versus Rodolfo Gonzalez (September 22) and finally, against Vinny Pazienza (November 7). By then, Roger had earned another nickname – 'The Mexican Assassin' because of his frequent wins over Mexican fighters!
On the 13th May1989, however, he would lose his WBC Junior Welterweight championship title to a Mexican fighter. That fighter was once again 'Julio César Chávez' now with a 63-0 record. Roger having to retire after he was physically hurt in round 10.
On his return to the boxing ring in February 1990, Roger won six consecutive fights before losing to Rafael Pineda. After the loss, Roger continued to fight on, losing some but winning more! He defeated famous boxers such as Livingstone Bramble on the 14th Match 1993, Eduardo Montes on the 28th May 1994 and Marco Antonio Ramirez on 16th June 1994. Further notable fights included:
Winning his first International Boxing Organization World Welterweight title at 147 lbs on the 4th August 1994 by beating Johnny Bizzarro in a unanimous decision.
Defending the belt against Aaron McLaurine on the 17th February 1995.
Losing his bout for the IBF Junior Welterweight title by unanimous decision in June of the same year to an up and coming 'heavy handed' fighter named Kostya Tszyu.
It was from 1996 onwards Roger began to concentrate more on training his nephew, Floyd Mayweather Jr., with Floyd's father Mayweather Sr. at the time serving a sentence in prison.
Roger however did appear in one bout in 1997 winning the IBA Welterweight title on March 12th from Carlos Miranda by TKO on 2 minutes 51 seconds of the 12th round in a twelve round match!
Roger Mayweather: The Trainer of One 'Pretty Boy Floyd'!
Roger initially trained Floyd Mayweather Jr. until Floyd Mayweather Sr. was released from prison in early 1998 and assumed the training of Floyd Jr.
After defeating Gregorio Vargas on the 18th March 2000, in an interesting spat characteristic of the Mayweather family (more of which later), Floyd Jr. fired his own father! And re-hired his own uncle!
Indeed to quote Tris Dixon:
"While the two Floyds were sometimes at odd, Roger and Floyd Jr never missed a beat. They had an understanding, a rhythm, a chemistry. It was seamless. It looked effortless but you know what it took? Yes, hard work and dedication on both of their parts".
Much of the training techniques that Roger used to turn Floyd Jr. into arguably the greatest 'pound for pound' boxer of all time are shrouded in secrecy. What is not is that it is Roger who is credited with turning Floyd into widely regarded as the best 'defensive' fighter in history. In doing so, honing the Mayweather 'shoulder roll' into an art form. *Note: Floyd Senior actually credited learning this technique from his own trainer, Dale Williams.
Mayweather Jr's unblemished record, already legendary, is a testament to the skills of Roger Mayweather. Roger himself ultimately a fighter turned trainer was universally respected throughout the boxing world though he did have his moments of notoriety!
Roger Mayweather: Interesting Times!
On the 8th of April 2006, Roger Mayweather was embroiled in controversy when during Floyd Mayweather Jr's fight with Zab Judah, Floyd Jr. was hit below the belt near the end of the tenth round. Roger Mayweather was not amused and subsequently entered the ring and engaged in a scuffle with Zab Judah's father-cum-trainer. For his trouble, Roger was fined US $200,000 and received a one-year suspension from boxing!
In August 2009, Roger Mayweather was also arrested in Las Vegas and charged with two counts of Felony Battery for choking and punching Melissa St. Vil, one of his former female boxers, in an apartment owned by him! He managed to avoid imprisonment through striking a deal with the prosecutor.
Roger Mayweather – The Man In Quotes!
"Roger was one of the most exciting fighters of his generation. He was a heavyweight puncher with a fragile chin. He was on the right and wrong end of some devastating knockouts but he was fearless nonetheless. Park that, he was often the intimidator, before, during and after his fighting career".
"Who was Roger Mayweather's best fight against? Was he a better boxer or trainer? Which Mayweather was the best?" "Chances are, if you had to ask Roger any of the above, you might have been told that you didn't know, well, then you didn't know sh– about boxing".
"Roger did not have a filter when it came to interviews. I had a memorable but futile interview in the MGM Grand press room one time. He was the only guy I ever interviewed whose language was so salty throughout the interview that I simply could not edit it to the point where I could find 30 seconds of useable tape!"
Roger Mayweather – Legacy
Roger Mayweather died at an early age of 58 on the 17th March, 2020 after years of deteriorating health. Floyd Jr opined in 2015 that he thought boxing was the main cause. Floyd Jr did not specify a reason but it was widely known Roger Mayweather had a number of long-term health problems including diabetes.
Floyd Mayweather's following words are a testament to the impact Roger Mayweather had had on the sport.
"My uncle was one of the most important people in my life inside and outside of the ring."
"Roger meant the world to me, my father Floyd Sr., my uncle Jeff, our whole family, everyone in and around the Mayweather Boxing Gym and the entire boxing world."
Another great quote after his death nicely summing up what Roger might have thought:
"Someone said… that he might have been the best of the four Mayweather's. Roger probably wouldn't have disagreed".
Roger Mayweather is an inductee of the Nevada Boxing Hall of Fame.